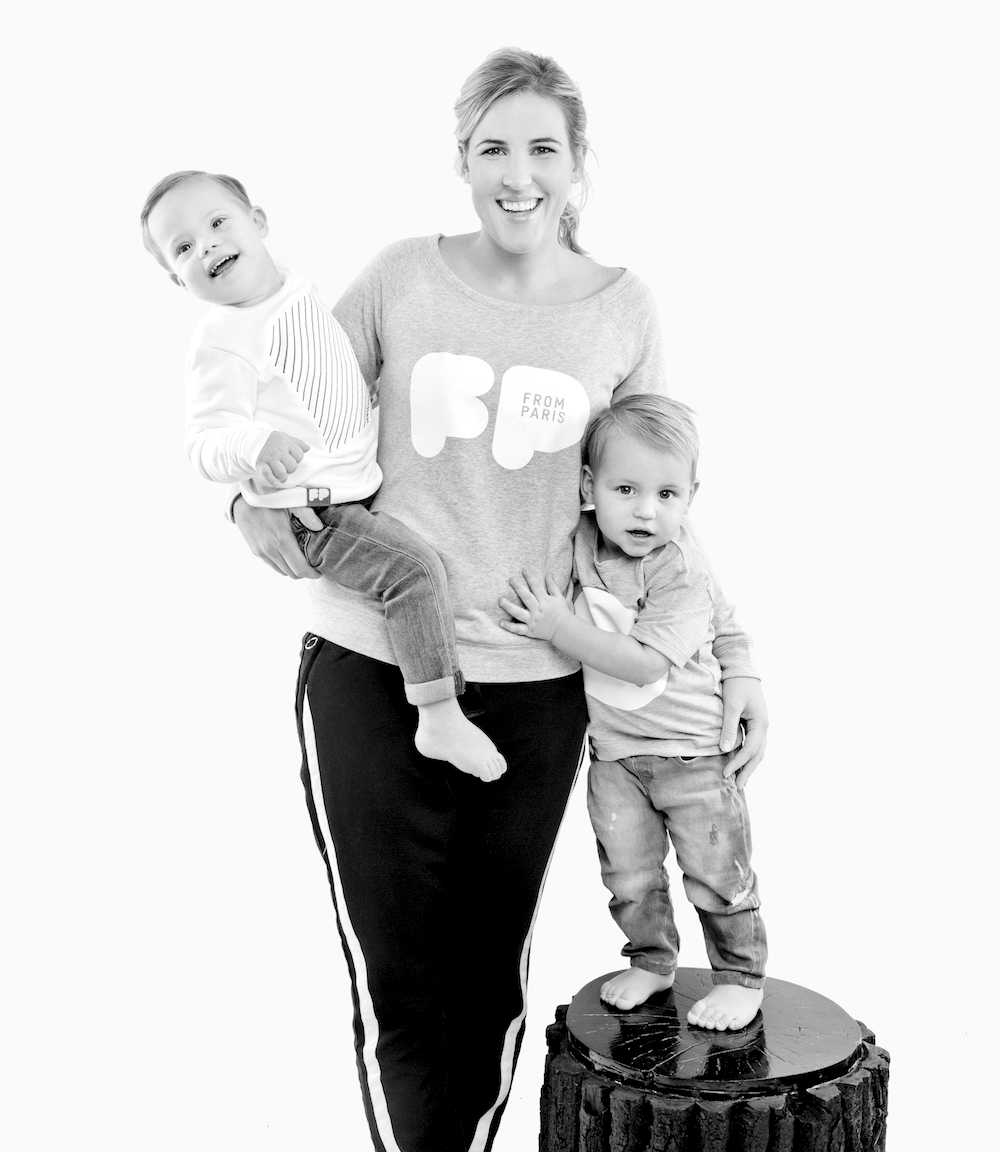 IN 2016 I FOUNDED 'FROM PARIS' - LITERAL TRANSLATION OF MY LAST NAME - IN THE SPIRIT OF MY FIRST EXPERIENCES AS A MOTHER. IN 2015 I GAVE BIRTH TO MY FIRST SON 'CHARLES', AFTER A COUPLE OF HOURS MY HUSBAND (TIM) AND MYSELF WERE GIVEN THE DIAGNOSE THAT CHARLES HAS DOWN SYNDROME. A LIFE CHANGING MOMENT FOR US. AFTER THE INITIAL SHOCK, I WAS DETERMINED TO ACCEPT ALL CHALLENGES THAT LIE AHEAD AND I AM COMMITTED TO CONTRIBUTE TO THE WONDERFUL WORLD OF CHILDREN WITH DISABILITIES.
FROM PARIS IS A BOUTIQUE CHILDREN'S CLOTHING BRAND FOR ALL BOYS AND GIRLS BETWEEN AGES 0 AND 8 YEARS. THE TAGLINE 'PERFECTLY IMPERFECT' REFERS TO THE SOURCE OF INSPIRATION FOR OUR BRAND: A STATEMENT THAT CHILDREN WHO ARE 'PERFECTLY IMPERFECT' SHOULD NOT STAND ON THE SIDE LINE BUT ARE AS WONDERFUL AS ANY OTHER. . THIS STATEMENT IS CONTINUED IN THE DESIGN OF THE CLOTHES: ALL PIECES SHOW A MINOR DETAIL THAT IS SLIGHTLY DIFFERENT FROM THE REST, YET STILL HARMONIOUSLY INTEGRATED IN THE OVERALL PIECE. AS FURTHER DEDICATION TO MY CAUSE, CHILDREN WITH DISABILITIES ARE THE FACE OF THE BRAND, STEALING THE SHOW AND OUR HEARTS IN THE LOOKBOOK.
FOR THE FIRST COLLECTION - SPRING SUMMER 2018 - I'VE CREATED A COMBINATION OF SOME UNISEX PIECES WITH A FEW GENDER-SPECIFIC ITEMS. THE OVERALL COLOR PATTERN CONTAINS BLACK, GREY & WHITE, WITH SOME ROYAL BLUE DETAILS. ALL ITEMS ARE HANDMADE IN THE NETHERLANDS AND FINISHED IN BELGIUM.
SPECIAL THANKS TO BILLIE, OLIVIA, JULIETTE, SIEN & ZAKI FOR THEIR BEAUTIFUL SMILES DURING OUR PHOTOSHOOT FOR SS18.
LOVE !
TINE VANPARIJS
FOUNDER
'FROM PARIS'